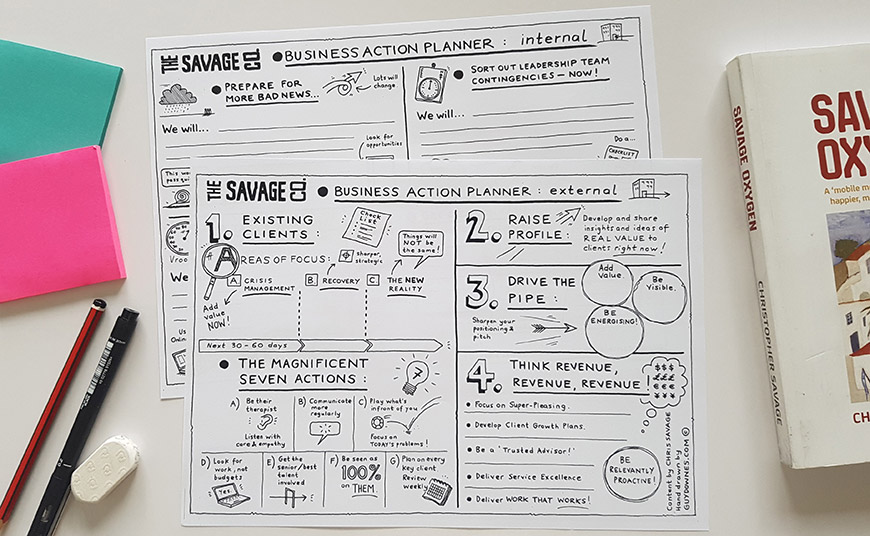 In times of massive change, a simple plan and structure can sometimes make a difference. So, here are two free 'Business Actions Plan' worksheets designed to help you and your business navigate through these very rough times. Feel free to print them out and get cracking.
I worked with Chris Savage to turn his headline tips from 37 years of agency leadership experience into these visual one page plans. It's a free guideline chart to help you take the right actions – today and tomorrow. One is for Internal actions – getting your business 'house in order'. The second is for External actions – keeping super-close to existing clients, driving the pipeline, etc. Develop your own plans and actions for each section. Take action every day. Update as required.
If you're interested in proven ideas to help manage agencies and teams through massive disruption, you can view the Business Action Planners by clicking on the link below. Please feel free to share these Business Action Planners with your clients, colleagues and wider business network if you think they can be of value.

Download the Business Action Planners here:
thesavageco.com/free-business-action-plans-in-time-of-crisis

Chris Savage is the founder of Ogilvy PR, a former chief operating officer of STW (now WPP AUNZ), and today is CEO of growth advisory firm, The Savage Company. Chris has been part of teams that successfully led agencies through the 1987 crash, 1990s recession, and tech bubble burst of the early 2000s. He was chief operating officer of the 4,000 people strong STW (now WPP AUNZ) following the 2008 global financial crisis (GFC).